Description of Garmin maps for routing with English names
Attention!
The generation of Garmin maps on this server was retired as the bilingual features were merged into the much more active general development of Garmin maps. Check out the other projects like
http://garmin.openstreetmap.nl/
for downloads of img files for Garmin units. The details below are kept for reference in case it is still useful for someone.
I provide free map data for Garmin GPS units in the .img file format. It covers Thailand and has English names where available and automatic transliteration for the rest.
I have tested it with a Garmin Oregon, but it should work with other units as well like the Colorado, eTrex Legend, eTrex Vista, eTrex Summit, eTrex Venture, GPSMAP, Nüvi, Zumo, Oregon, Quest and Streetpilot. See the OpenStreetMap Wiki for a more detailed list of supported devices and some installation instructions for these.
The latest version is available in the /garmin folder in the download area: http://downloads.osm-tools.org/garmin/.
Installation
Installation on my Garmin GPS unit
was very simple. I just copied the thailand.img file (which is contained in the download archive) into a folder named "Garmin" that is located on the GPS unit when connected by USB. It's also possible to install it on a microSD card.
Installation into MapSource need a few more steps:

Download and unzip the map data, download and unzip MapSetToolkit
run MapSetToolkit as Administrator
Click install, select .tbd file, select .img overview file, enter name OSM
Refer to
MapSource in the OSM wiki
for more detailed (or updated) instructions.
Screenshots
Get an impression by checking out the screenshots or get if for yourself from
http://downloads.osm-tools.org/
.
MapSetToolkit installation screen for MapSource: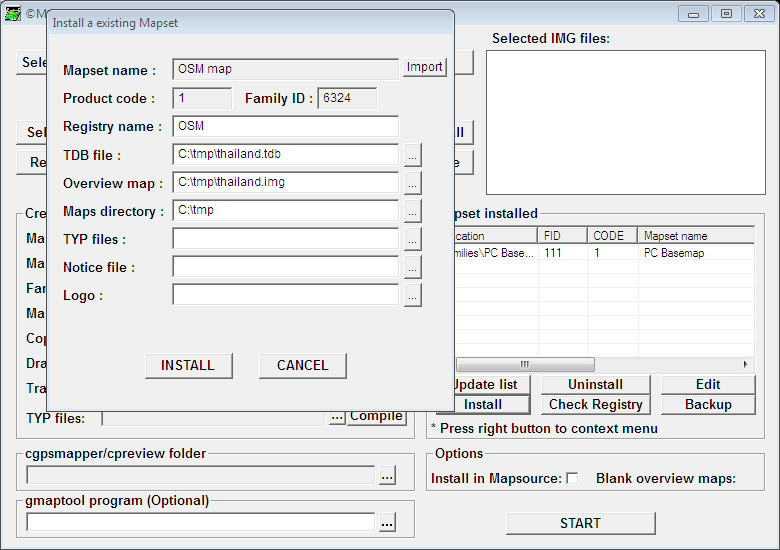 Overview
Return to the
Overview
page to find more or browse other
downloads
.